Discover it at your pace, and in your language with Ivan Bahia Guide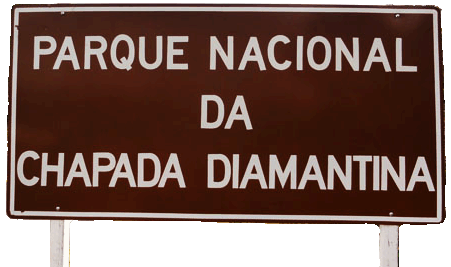 Be amazed by Chapada Diamantina National Park
The Chapada Diamantina National Park is a 1,520 km² national park in the center of the State of Bahia, which is also refered to as the "Brazilian Grand Canyon". The park is located between 41º35'-41º15'W and 12º25'-13º20'S, about 450 kilometers inland from Salvador.
The region is semi-arid, however it has no shortage of water, from the many rivers and streams. On average, the altitude of the park is between 800 and 1000 meters above sea level, although parts are as high as 2000 meters above. In this place is located the highest point of state in Pico do Barbado with 2,036 meters. The park is typified by hills, mountains, valleys and monoliths, with few plains. Let us be completely clear about one thing : the nature in this National Park is absolutely overwhelming...

There are many, many places to be visited.

One of the attractions you could go to is the 380m high Cachoeira da Fumaça waterfall, watch the impressive scenery in the next video :


Remember ALL TRANSPORTS over land ARE ALWAYS PRIVATE AND INCLUDED in OUR PRICES.
Generally, as we arrive in Chapada in the early afternoon, we first take a look in the local orchid garden, with many local (as well as some interesting hybrids)growing flowers. Some even have a smell you'd never expect ;-)
After this we'll go up for a first view (with an impressive sunset if the weather conditions are right) of the park from the mount Pai Inaçio.
Our base-camp in Chapada Diamantina will be the charming former little mining city which is called Lençois. By the way the name of the park originates in the fact that the region was known for it's mining activities (diamonds & gold) and as a matter of fact "Chapada" means "layer" (of diamonds in this case).
We will be staying at the pousada Alto do Cajoeiro in the woods of Muritiba, or at the pousada Alto do Cajueiro (depending on availability) both at a few minutes walk of the center of Lençois.
At night you will appreciate the absolute calmness and this nice freshness
In Lençois there are 2 marvelous walks to be done.
One to Ribeirão Meio and the other one is a bit of a surprise of ours but you will need some trekking shoes in good conditions and adapted to sometimes slippery surfaces.
In your free moments you will surely enjoy the charms of the small cobbled streets of Lençois with it's restaurants for all budgets. A no-brainer for relaxation after a long walk !
As you already understood, a visit to Chapada Diamantina will need some real input from your part. We are going to do some decent walking (up and down)
Going "down" we also take serious. There is a large collection of caves (up to 85km long!) and we could for sure visit the Gruta da Fumaça. Many people got impressed by the beauty of this gorgeous cave with a high degree of humidity.
And then we come to an absolute must for this part of Brazil : the "Cachoeira da Fumaça" one of the worlds highest waterfalls ! With over 380m of nothing under you there reason to be impressed, no ?
But we have more to offer you in Chapada Diamantina.
We will take decisions together after an extensive briefing and according to the weather circumstances (there are several micro-climates that influence the region) AND your wishes of the day.

Over the past years we have made many pictures of this National Park, if you want you can have a look here for a selection of the best views you could find in Chapada Diamantina.
HOME